Verbal Identity & Naming
Process and Case Studies


The nuts and bolts of your brand's identity. Verbal identity comes after brand strategy and sets the stage for naming, visual identity, logo design and all marketing creative.

Based on your brand strategy, we create a system of language that is distinct from competitors. Connects with your target's unmet need. Scales with brand growth.


A typical verbal identity includes the following internal guidelines and external messaging:

Internal Guidelines

Vibe
Beliefs
Nemesis
Tone
Readability range
Additional grammer, syntax, word choice and writing style recommendations

External Messaging

Naming
Purpose (About Us Copy)
Tagline & Storytelling Statement
Values
Benefits
Homepage Copy
Unique Sales Proposition

Why Us Copy
Audience Value Proposition
Elevator Pitch
Meta Descriptions for About Us, Homepage and Why Us pages



You will have a clear story that launches a new brand or strengthens an existing brand.

This all starts with a conversation about brand strategy. Do you need that, too?








Arch Anchor
Award Winning Identity


Launching a commercial real estate brand that's rooted in a distinct vibe and values compared to the category.

Yashaar Amin, founder and managing principal, was running a successful company that was primed to grow.

In order to make their company known to new clients and employees, they needed a brand that would represent their personal and professional ethos. While also clearly communicating their value.




Commercial real estate firms tend to play it safe.

But Yahsaar was willing to push the category norms. Plus, he had a business reason to back it up. The company operates more creatively and personally than most CRE firms.

We leaned into their ethos and our consumer insights to deliver a tone and personality that is clear and casual, while also being uncharacteristically imaginative for the category.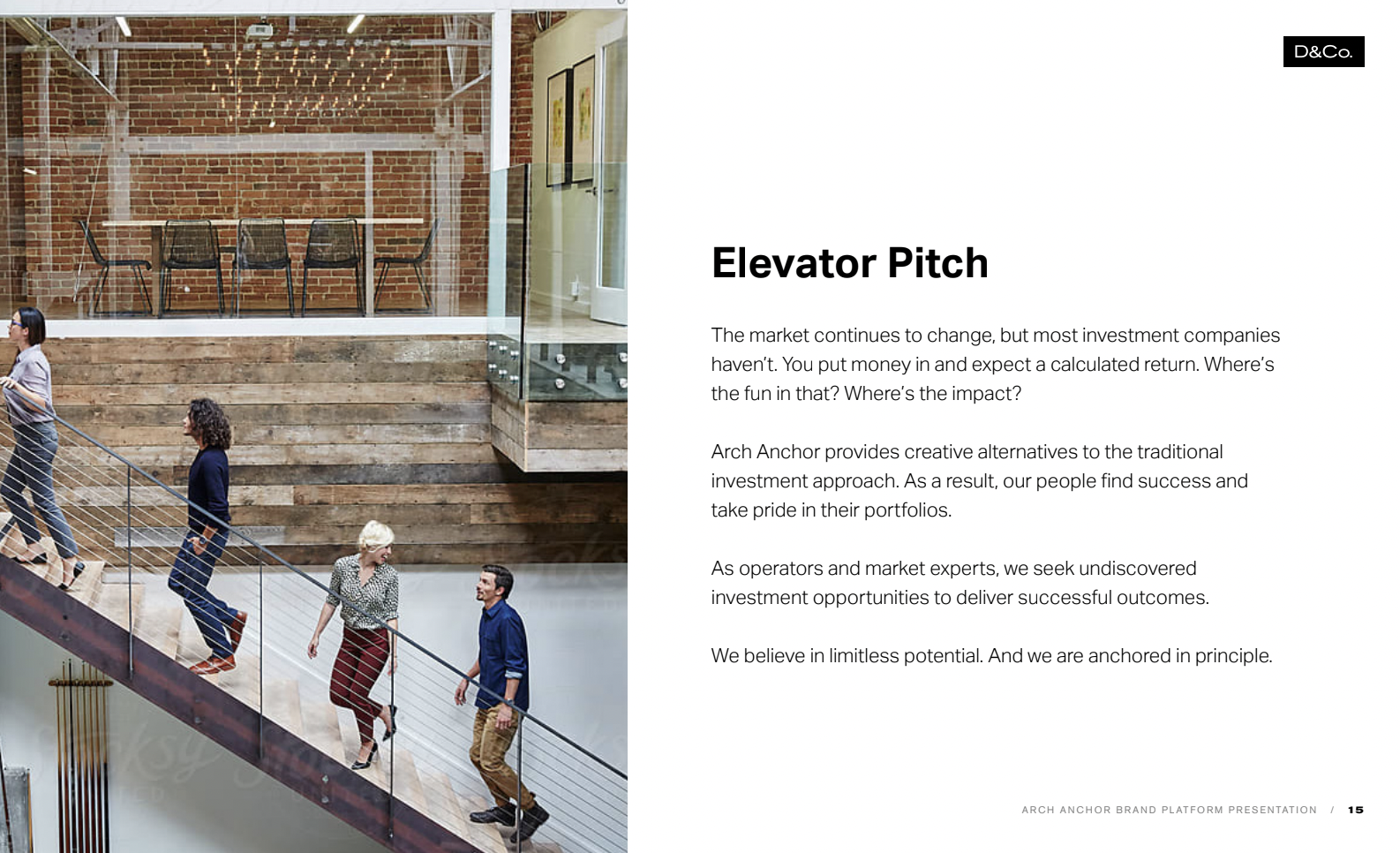 We didn't stop at verbal identity.

A new brand strategy was implemented that expressed their core values, leading to a distinct CRE brand that represents creativity, environmental focus and the community.

The new verbal and visual identity reflects this brand strategy. Imaginative copy. Energetic design. And a color palette that stands out from the competition.






What the Flip

An audacious new take on the transformation of property, possessions and people.
What the Flip is an online show that is being pitched for TV. We created a personality-packed identity that brought Ellie Greenberg's sassy self to the surface.






Our strategy discussions lead to the refinement of the show's core story, audience and values.
We documented these fundamental charactersitics (along with others) and mapped them to obejctives that would help Ellie achieve her goal of successfully growing her social audience and eventually pitching her show.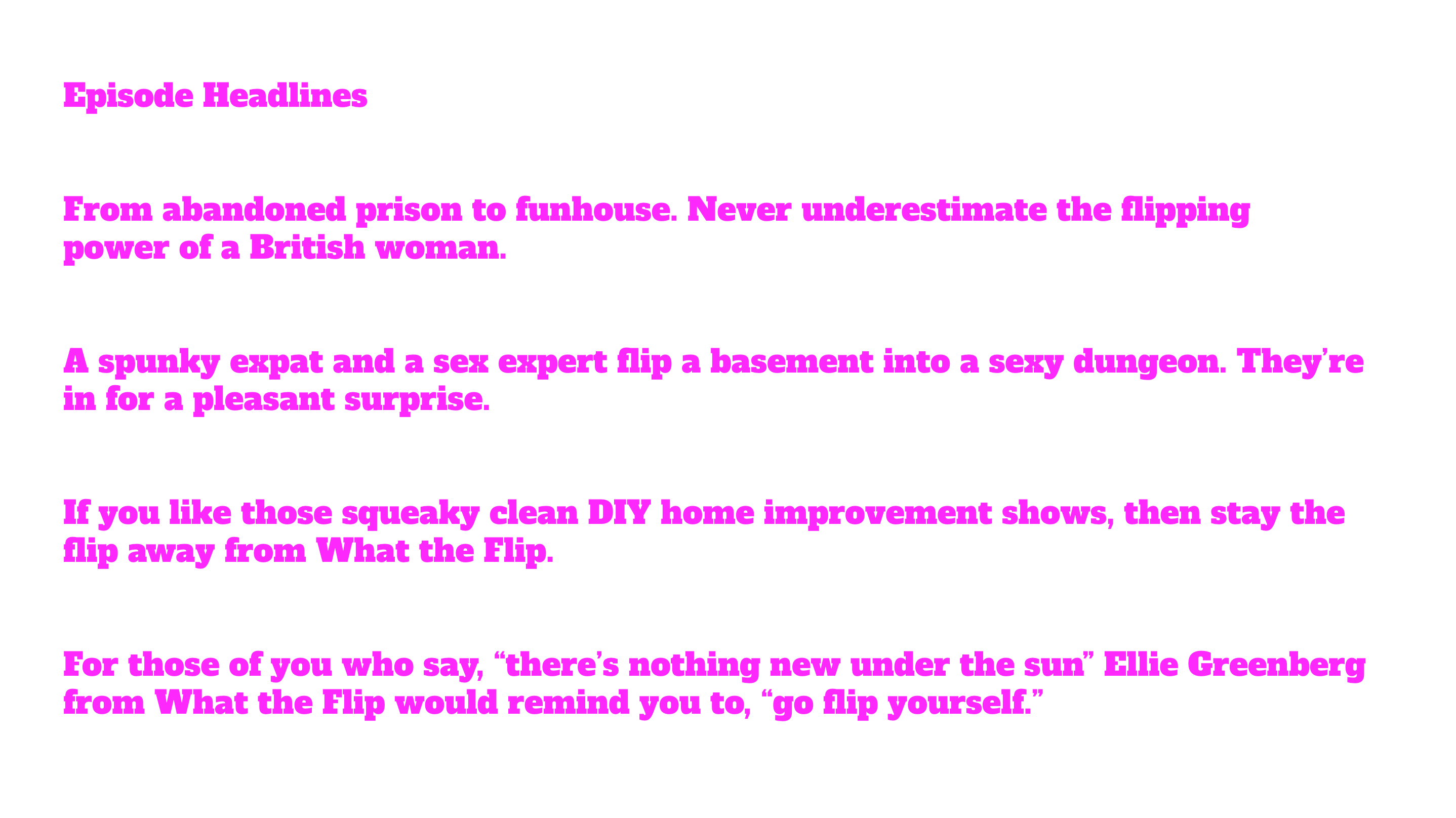 In addition to the usual verbal identity elements, I wrote scripts and copy that appear in show and play a supporting role in social, digital and OOH environments.





Branding and copywriting for entertainment is fun and I missed it!
It had been years since I wrote for an entertainment brand, with A&E Networks and History channel being my previous experience in the category. What I enjoyed the most was learning a new character and creating language that was authentic to her, which I hope connects with her audience.






Mosaic


A historic district with a historic set of problems. Vacancy. Security. A lack of identity and a lack of pride.
I helped develop a real estate destination that brought together all of the unique elements of Long Beach to forever change the downtown retail experience. Through brand immersion sessions with our CRE clients, we achieved this vision with the development of the newly titled Mosaic.




One element of the branding process was the creation of a storytelling lens.
Together we thrive is the filter through which we pass every aspect of the brand story. Through various themes and consumer touchpoints, it promotes community pride. It embodies our mission in a succinct and relatable way that allows our consumer to make this story their own.






This is just the beginning for Mosiac!
I will be updating creative as more aspects of this project go live.






Pallaby


The idea for a business existed, but there wasn't a name or identity.
Through market research, competitive and company audits, we developed their name, brand book and story.





We landed on language that hints at positioning and values. This 'knowledgable partner with the consumer' mindset is at the core of their product offering and their desire to develop a wide range of wellness services (such as free televet visits for members).

We established a supportive and approachable everyman persona and tone of voice. The brand strives to be honest, modest, relaxed and playful. No frills or gimmicks. The type of person that would make a trusted dog sitter.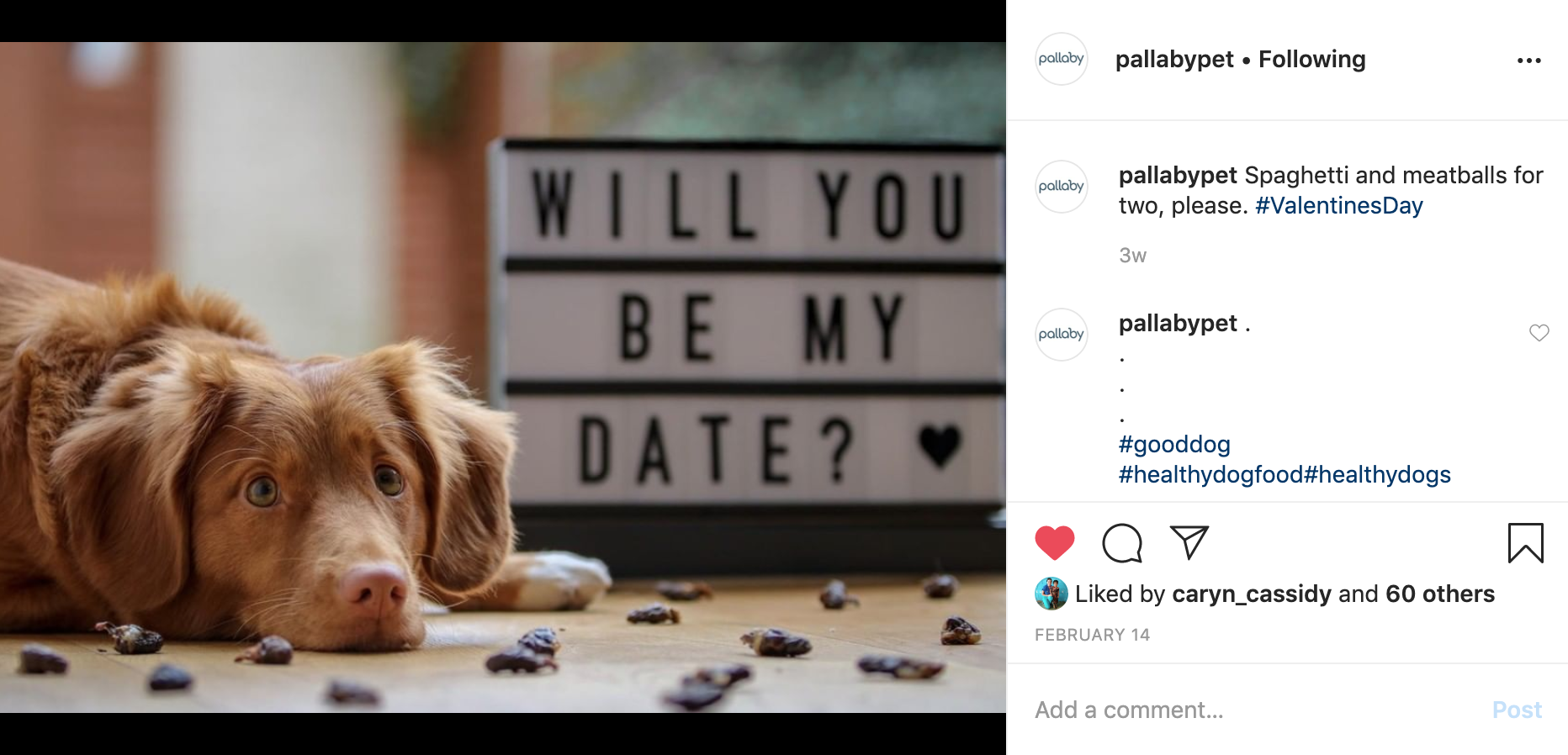 In taking the brand to market, we built off of the identity and had some pup-loving fun.
While the brand is serious about dog health, it allows for relatable and playful expressions of love, quirkiness, happiness; experiences and feelings that pet owners cherish.







Smarter


By 2030, the US population will fit the definition of "super-aged" – more than 20% will be over 65.
This group is largely disengaged with technology at the cost of their health and happiness. They face personal, complex barriers that require attentive, in-person care to overcome this disengagement with tech. Smarter was created for these people.

Not only are older adults left feeling disconnected and even invisible, there is a generational strain at play.
Their children find themselves juggling careers, families, social lives and the needs of their parents. They don't have the time or skills required to help their parents. Leaving the children to feel guilty, inadequate and resigned.




The brand wants to be a trusted source of knowledge, like the tech-savy younger family member. Someone who is also caring and understanding.
Working with their research and the founding members, we positioned the brand and developed this helpful persona.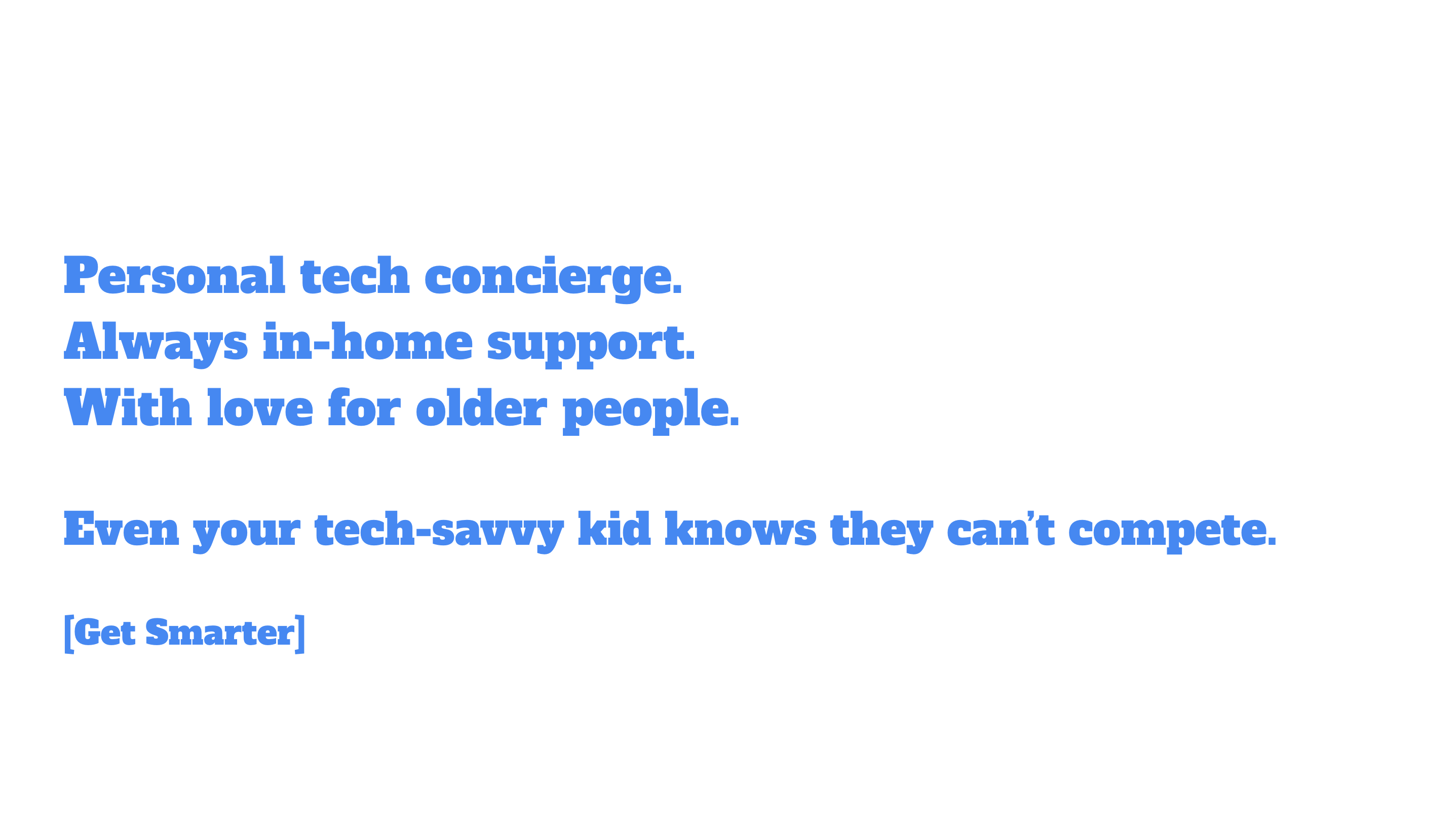 Examples of messaging that captured the brand's value in a variety of ways.
I find that writing divergently and sharing an array of value messaging helps us have productive conversations before we set any rules (e.g. should it be "older adults" or "older people?").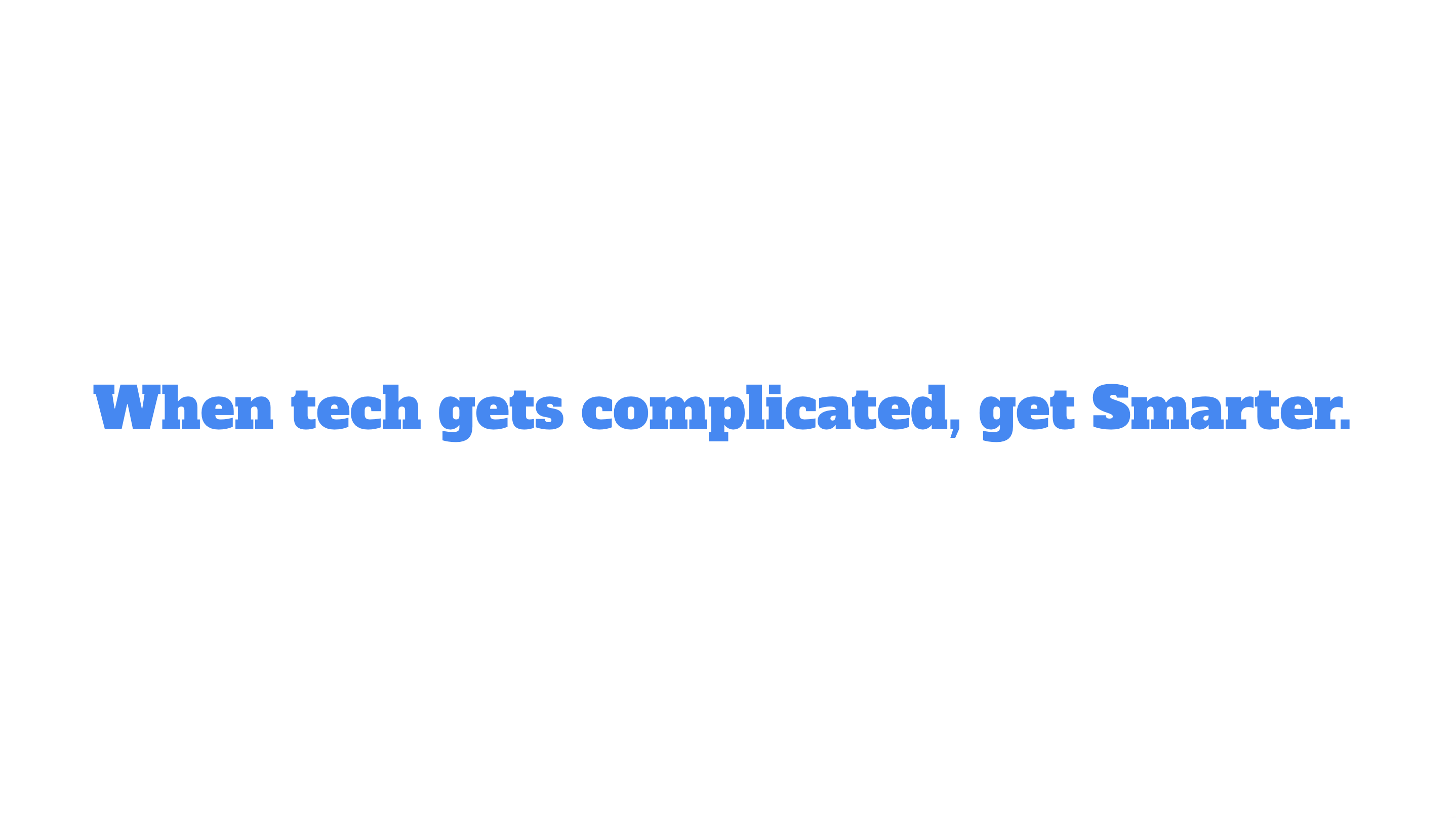 Tagline dilemma.
The clients liked both of these as potential taglines. Which do you prefer?