Honda

This is one of my favorite projects at RPA because we ended up selling an idea that was bigger than the initial brief and it was well received.



Master Brand - Holidays
Ask: Create a holiday email that carried a sentimental message from Honda to its 2 million Owner Link recipients.

Solution: We did that, and we created a way for people to share their own message of holiday cheer with family and friends. It ended up getting way more traction than we anticipated.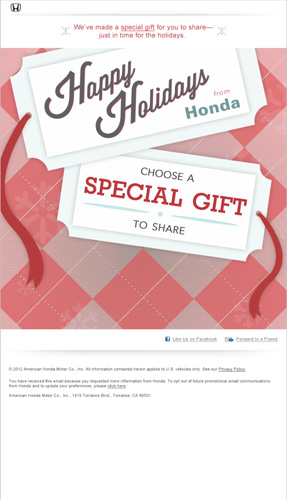 From the email you were directed to the microsite to pick your own card to share.



This was also the smallest project I worked on at Honda from a budget perspective, but, I keep it in my book because it gave people joy.

Years later and I understand why this work mattered so much to me, becasuse I want to use my creativity to help people. That's my purpose.


Creative Team
ACD: Luis Ramirez
AD: Erin Magbee
CW: Zane Cassidy



---


Civic Coupe & Si Coupe

I worked as a CW on Civic Coupe and Si. I did a lot of writing and concepting for both models, including the below interactive tour video, creating digital banners and web copy.



Agency: RPA
CD: Luis Ramirez
CD: Dan Roberts
AD: Quinn Fuca
CW: Zane Cassidy