Blue Diamond Almonds

I was brought onto the Blue Diamond team at the beginning of a transitional period. The brand was undergoing its first holistic rebrand, which was exciting to dig into with my previous experience on Mars and 3M.

Working with our strategy and insight departments we were able to provide digital and social direction for this shift. Aaaand, there was a new CMO dropped into the mix after work had begun, adding its own set of trials. The stage was set for challanges to abound, and they did, and we prevailed by making it really simple (and craveable).



Crave Victoriously

Ask: Bring the new brand positioning to life on social and web to drive awareness and consideration of our bold and traditional flavors.

Insight: To crave is to be human. And you don't have to feel any guilt or doubt about your cravings when you choose almonds, a superfood snack.

Solution: A campaign targeted at specific snacker flavor profiles and at specific craving times during the day. We focused on showing the taste appeal of our flavors and expressing the empowered sensation consumers can embrace when they snack on a superfood.

Campaign One - "Don't Deny"



Post Copy A (Superfood): They say, deny your snack cravings. We say, grab that craving by the superfood handful and crunch it.

Post Copy B (Flavor+Superfood): The bittersweetness of dark chocolate in a superfood. Don't just crave it... crunch it.



Campaign Two - "Crave Monologues"

Based on learnings from campaign one, we created the following series titled Crave Monologues, which was close to the original while pushing the new branding to be more expressive.



Post Copy A (Superfood+Flavor): Don't "control" your snack cravings. Fuel them with the flame of Sriracha in a superfood crunch.

Post Copy B (Evocative Language): Tangy Sriracha lava fountains leap from your phone for the kiss. Crunch your cravings. Now.


Post Copy A (Superfood+Flavor): Don't avoid your snack cravings. Hit them in the taste buds with wasabi and soy in a superfood crunch.

Post Copy B (Evocative Language): Savory wasabi and soy meet for unbridled combat in your mouth. Crunch your cravings. Now.


Post Copy A (Superfood+Flavor): Don't reject your snack cravings. Smother them with dark chocolate in a superfood crunch

Post Copy B (Evocative Language): Bittersweet chocolate waves will roll your taste buds into bliss. Crunch your cravings. Now.


Reception: These videos became the brand's highest performing content on YouTube (until our Gourmet Almonds work below). They were good on Instagram as well, which surprised me because they are more ad like in nature than the content on that channel.


---

Gourmet Almonds

This was a real treat to work on, if only because we got free product and these nuts are delicious.

Unlike other almonds, they've been blanched to remove the skin and lightly coated in olive oil and seasoning to create a unique mouth feel (yes, mouth feel is an industry term, in the nut industry).

Ask: Drive awareness and consideration of this new product line through tantalizing content. Clients loved what we did with the bite-sized Crave Victoriously content and wanted something similar for gourmet

Insight: The eclectic foodie target isn't looking for a new snack, they're looking for a new story, something they can share with their friends to elevate their cultural and foodie status.

Solution: Videos and copy that introduce the product's story: the artisan creation process and chef inspired ingredients. For production, we worked with Adam Bricker (DP) from Chef's Table, whose work and style was an inspiration for this concept.


Post Copy A (Ingredient & Flavor): Is that Rosmarinus Officinalis we smell? The aromatic herb known to us as Rosemary was called the "dew of the sea" in ancient Mediterranean. With a pinch of sea salt, we call it delicious.

Post Copy B (Process & Pairing): Brighten any platter. These finely seasoned almonds are roasted and garnished with rosemary and sea salt to round out everything from cured meats and cheeses to tangy jams and fresh fruit.



Post Copy A (Ingredient & Flavor): Salt from the pre-Cambrian era? One bite will take you back 800 million years, when these crystals were formed as lava swallowed an ancient sea. That makes our mouths water in the future.

Post Copy B (Process & Pairing): Serve up something simply elegant. These almonds are roasted and seasoned with beautiful pink Himalayan salt to bring a delicate balance of savory crunch to a platter of pickled vegetables or delectable sweets.



Post Copy A (Ingredient & Flavor): Do you live and die by garlic? The ancient Egyptians did. Pharaoh "Tut" had garlic buried with him and the pyramid builders ate it raw. We prefer our garlic roasted, with olive oil and herbs.

Post Copy B (Process & Pairing): Toast to impressive tastes. These almonds are roasted and seasoned with a trifecta of garlic, chef-inspired spices and extra virgin olive oil to bring a distinctive crunch and burst of sophistication to any crostini or crudité platter.



Post Copy A (Ingredient & Flavor): Truffle the superfood? If you lived back in ancient Greece the answer was a resounding "naí" (that means yes). They believed it gave godlike health to body and soul. We believe its flavor is divine.

Post Copy B (Process & Pairing): Dabble in decadence. These irresistibly crunchy almonds are roasted and dusted with black truffles to pair with your most impressive spread of specialty cheeses and artisanal honey to make any occasion a fine occasion.


We held a seperate shoot to capture web and social images you see below.


Reception: The metrics for success shifted throught the project. We were briefed and rebriefed. Budgets shrank and larger conceptual ideas we presented were not executed. It was all a bit chaotic. So when our Google rep told us that the camaign was the top performing campaign across all of YouTube short form in its debut month we were estatic.


---


You Are As You Crave

There was once a very special big idea called You Are As You Crave that got tons of head nods and client excitement, but alas, never came to be. This is the story of a dead idea. RIP.
The idea was built around a simple premise, what do your flavor cravings say about you?

More than you'd guess, I'd wager.
Ask: There wasn't a client ask, this was a proactive idea. We knew that the new branding needed more than just targeted social videos. We also knew that budgets were tight. But that didn't stop us from pushing. We wanted to build brand affinity and saw an ownable white space.

Insight: Social listening showed us how intimately people identify with flavors, that also matter to the brand. Like Sriracha, Wasabi, and more. We also stumbled onto research into flavor cravings.

Solution: YAAYC was one-part Science of Cravings, one part Harry Potter Sorting Hat, which made it engaging for anyone with taste buds to discover something new about themselves, share, and form communities around shared cravings. On the back end, we would gather audience data and provide better recommendations.

Manifesto:
They say your cravings are taboo
But what do they know? Your cravings are you.

Cravings aren't random or new.
They are built into your brain and the things that you do.

If adventure is what's always on the mind.
Sweets might just be the craving you find.

Crunching your cravings isn't a bad thing at all.
It's not worth your buds and your brain having a brawl.

So say no to those they-sayers.
And get to know your own layers.

You are as you crave, your cravings are you.
So Crave Victoriously and you'll always stay true.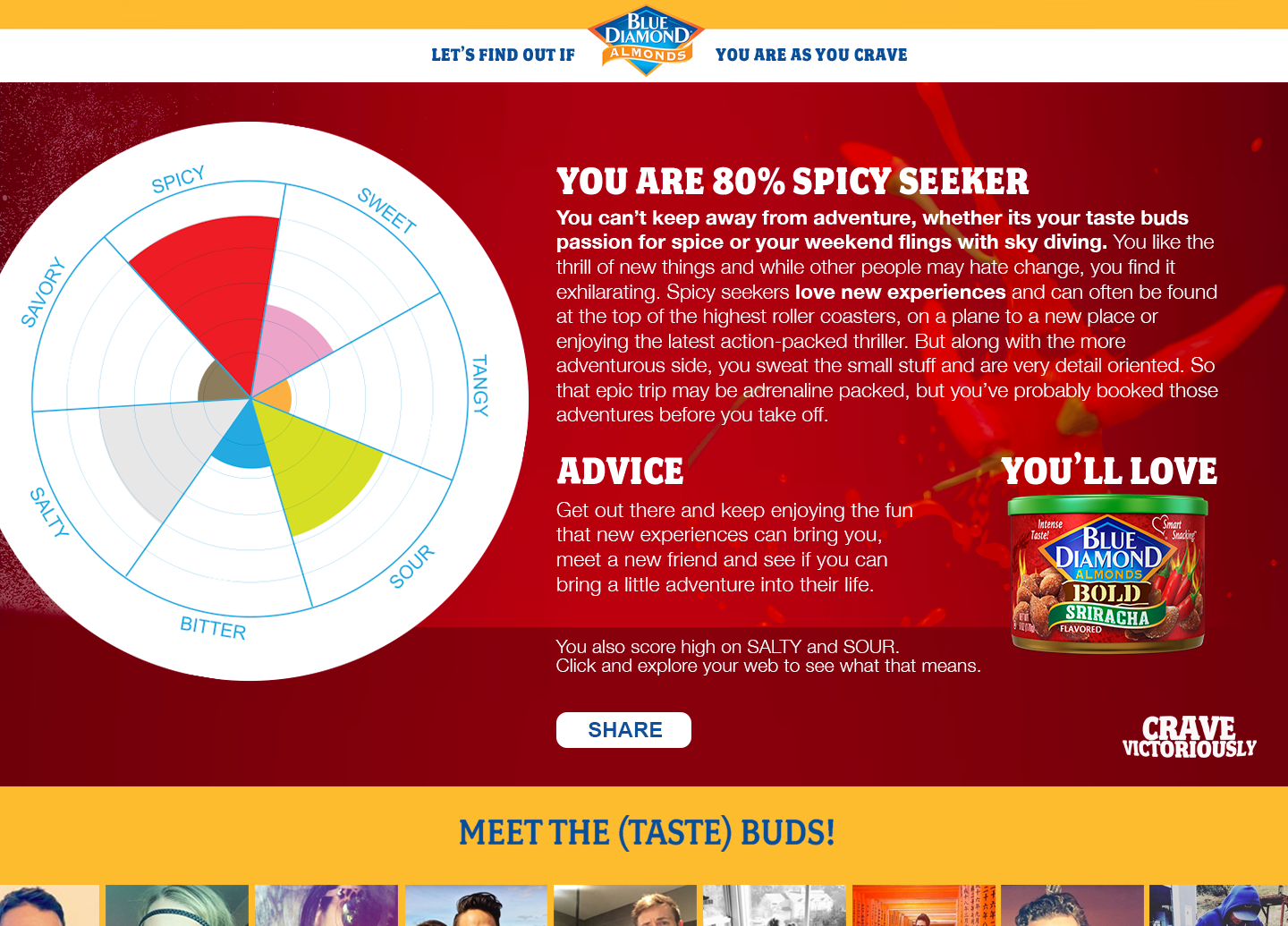 Agency: TMA
CD: Brandon Stuart
ACD: Zane Cassidy
Sr. CW: Courtney Davidson
CW: Brynn Cahalan
Sr. AD: Christina Contreras
AD: Jordan Broun